Home
CharVision
Watch NEW episodes of CharVision every Friday at 6pmPST/9pmEST at www.UBNRadio.com- Channel 1
Beginning July 11, 2015 If you miss the live show, you can ALWAYS watch every episode here on www.Char.net
Miss an episode? Don't worry, binge watching is always encouraged here at Char.net. Remember all episodes of CharVision are FREE!
About Char
Internationally renowned Intuitive-Medium, Char Margolis, shares with you her secrets for developing your own intuitive abilities. Her gift to connect with the spirit world and strongly intuit messages is remarkable. With her personal warmth and quick wit Char has been stunning people around the world with her amazing intuitive talents for decades.
"I don't know how Char does it!" — Larry King
Char's Personal Mission
Now, more than ever, it is important for all of us to listen to our intuition so we can attain our goals in our lives and stay out of harm's way.
As a child I was able to see spirits, read thoughts, and foresee events. At first my abilities frightened me because I did not understand them, but eventually I came to accept them as a gift from the universe. I learned (and continue to learn) from others, as well as through my own efforts, how to develop my intuition to its fullest extent. And ultimately, I learned how to teach others to develop their own intuition as well.
My purpose for being on this earth is to help others recognize, develop, and use their God-given intuitive abilities to ease suffering and grow in goodness, love, compassion, and wisdom. My mission is to help take away fear. the fear of death by knowing that we don't die and will see our loved ones again when we pass over to the spirit world; and to take away our fears in life by demonstrating how to tap into our own intuition in order to make our lives much happier and easier.  We can make wiser choices when we use logic, common sense and intuition to make decisions. That is when we get our best answers Char is available for private readings by telephone, skype and on rare occasion in-person. She also is available for speaking events.
Awakening to our own intuitive powers is more important than ever, because I believe that humanity is going through a metamorphosis- from a material world to a spiritual one. We're moving into a new age of spiritual awareness, a whole new phase for the human race, a time when we must learn to balance the spiritual and material. I call it the Age of Awareness, because I believe it's a time when we all will have to become aware of the enormous power we possess.
Inspirational Thought Of The Day...
You have the capacity to change the world within a moment. All you must do is make a simple choice. Are you going to choose a world of love and gratitude, or a tortured world filled with discontent and impoverishment?

- Masaru Emoto, The Hidden Messages in Water
Char Margolis - Victims spirit reveals murderer to Char
The Talk : Psychic Medium Reading
Char Reads For Dr. Phil & Robin
Char Reads For a Family at Book Signing in Detroit MI-
Char Reads for Daren Kagasoff and Ana Coto on Entertainment Tonight
Chakra Therapy With Char Margolis
Do you sometimes feel out of sorts and don't know why? Do you ever feel imbalanced? Many people do not realize that your body has 7 energy centers. Each one contributes to the function of your mind, body and spirit. When balanced, these energy centers generate a deep feeling of well-being. Chakra Therapy with Char Margolis is just what the doctor ordered! A prescription to help you restore your energy, alleviate stress and find balance and inner peace. Char guides you through these 7 simple meditations to help you achieve this goal. Finally, an easy meditation for all of us! You don't have to travel to a sacred site to find enlightenment. Enjoy the journey within you!
To download your copy now click here!
To order your copy of Chakra Therapy with Char Margolis Click HERE now!
Intuition Class
Spend a day with Psychic Medium Char Margolis learning how to develop and listen to  your own intution. Char will give you tips on how to scan someone else's energy, how to keep yourself protected from negative energy and much more! Classes are one full day.
To sign up for a future Intuition Class in your area, click here
Love Karma: Use Your Intuition to Find, Create and Nurture Love in Your Life
Char's new book Love Karma: Use Your Intuition to Find, Create and Nurture Love in Your Life is on sale now! You can purchase it at Amazon.com or Barnes&Noble.com.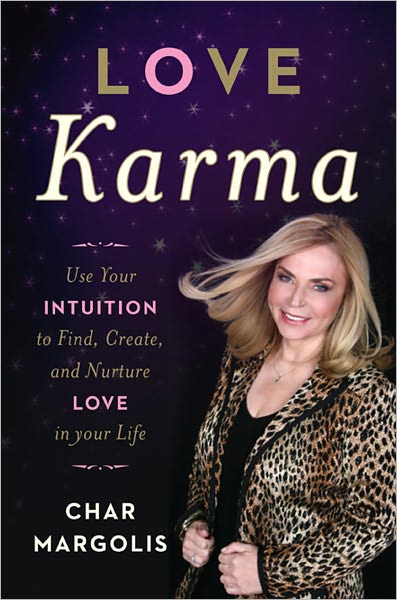 Book Description:
Internationally renowned psychic medium Char Margolis reveals her intuitive method to finding love and sustaining fulfilling relationships.
 
Love seekers will find that Char busts the "one soul mate" myth and that loving relationships extend beyond one lifetime. Char explains that we have many soul mates who take different forms in different lives--lover, parent, best friend, even enemy--each teaching different lessons. She shows us how using our intuition, communication skills, and common sense can help us find and deepen intimate our relationships, so we can continue to learn the lessons of love we came to Earth to master.
 
Exercises, quizzes, and helpful tools for evaluating partners, will guide the reader to better relationships with thought-provoking questions, and easy-to-remember "dos and don'ts."  Contributions from outside experts like noted astrologer Sandy Anastasi and bestselling numerologist Glynis McCants bring additional insight to our quest for the best partner for this lifetime.
Sign Up for Florida Events
If you would like to sign up to be put on a VIP list to receive notices when Char will be in Florida for an event click here.
To sign up for Char's free monthly e-newsletter, click here.
Private Readings
People wait for months for the chance to have a private reading with Char. Readings are done by Telephone, Skype, and on the rare occasion In-Person. To add yourself to the private reading waiting list or to see if an appointment has opened up, please call 1-888-909-2427 (CHAR).